Chapter 41
Thunderbolt Series School Tools
Wearable Thunderbolt & Lantern Combination gives Total Power.
It's all about the mathematical patterns. It doesn't look like much from out here in the Einsteinian Universe, but in Quantum, those little ridges are mountain ranges, and the flats are deep valleys, Going deeper within, the patterns of zig-zag & swirl create momentary and persisting vortex & gravity well Negentropic clustering points. If you're not following me on this, you need to read the countless blogs and view the numberless videos on the subject of Quantum Effects.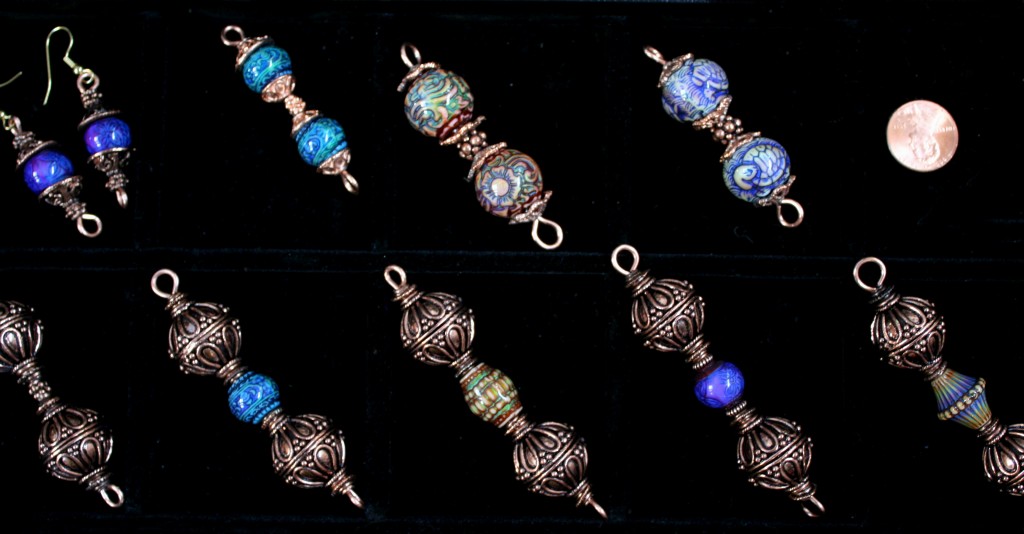 Thunderbolts used in ritual & training practices, compared to the size of a U.S. cent.
SCHOOL TOOLS are those ritual objects that help to open portals, clear the way and correct the Path. Within the general scope of availtools, School Tools are specific to the Attributions and Skills of the Voyager. They include Amulets, SuperBeacon, Matrix, Altar Items, ritual robes, dance costumes, masks, rings, necklaces, bracelets, girdles, belts, boots, hats and of course the main School Tools, the ever-popular Thunderbolts, and the reason they're so popular is that they're so easy to use and so handy to have on hand.
THUNDERBOLT MESSENGER DORJE -- $69.95
Equipped with EmoFeedback, the Thunderbolt Messenger does the job of opening the doors of communication, disregarding brane boundaries. Keep the Thunderbolt Emo Indicator at Perfect Cobalt Blue, and two-way communication gets through on any Plane from Astral to Causal. Great for prayer, guidance and angelic intervention.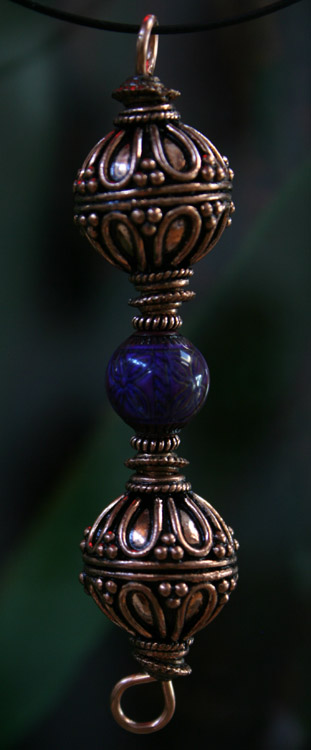 The Chiller in action. Worn as a Pendant.
THUNDERBOLT CHILLER DORJE -- $69.95
The Thunderbolt Chiller is the Ultimate in Psychic Wellness. Relaxation is not enough. Total Chill-Out and Bliss is required. Keep the Emo-Indicator in Deep Blue to Kelly Green for perfect relaxation and stress-busting easy breathing.
THUNDERBOLT DEEPSLEEP DORJE -- $69.95
The Ultimate in Restore Power, this is also available in bracelet form at only $89.95. Be sure to include size -- measure your wrist for correct sizing, or take a wild guess. ALL School Tool items are custom-made to your order, as closely fit as bead sizes and links will allow. Some beads are larger, requiring more or fewer links in the bracelet.

Cornflower Dorje works to induce deep sleep when used in meditation practice.
THUNDERBOLT PORTAL DORJE -- $69.95
Open any door, any time, with the Thunderbolt Portal. Doors of Perception, Doors of Wonder, Doors of Knowledge, Doors in Concert (who could resist that gag?). Use the Thunderbolt Portal best at Cobalt Blue, Veridian Green and Deep Purple. It helps to take my watercolor and acrylic painting classes to appreciate the subtle differences that make your experience better and your results more solid.
THUNDERBOLT LUCID DREAMER DORJE -- $69.95
Empowering through Deep Levels of Relaxation, this Thunderbolt works best when all the street tensions and daily life effects have released into the Cobalt Blue Region of the Emotional Spectrum. Keep in the Blue, and you will do well. Also available in bracelet form, at $89.95.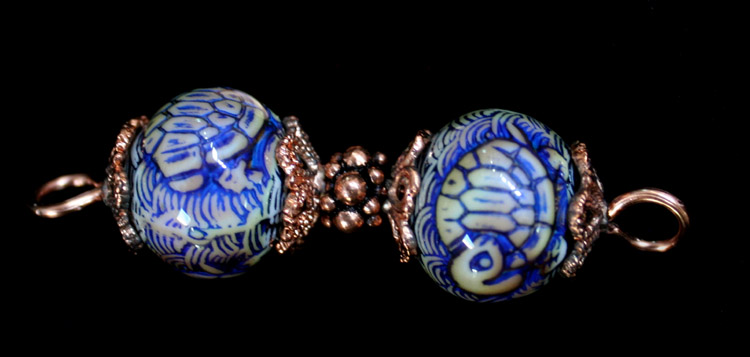 Lucid Dreaming with the Thunderbolt Dorje and/or bracelet works wonders for your Dream Work.
THUNDERBOLT INVOCATOR DORJE -- $69.95
A flawless and safe way to invoke Angelic Helpers, keep this Thunderbolt's Emo-Indicator in the Cobalt Blue range, and you have a Wormhole to the Jealous God or Angel World.
THUNDERBOLT LOCATOR DORJE -- $69.95
Lose something? Use this Thunderbolt Locator as a dowsing device. You'll find the item somewhere in the Red to Pink range, but keep to the Blue. It will change to the Reddish Range when the item is nearby.
Thunderbolt Memory Dorje is both beautiful and useful.
THUNDERBOLT MEMORY DORJE– $69.95
Losing your memory? Are you learning less and forgetting more? Keep in the Blue with this Thunderbolt Memory Combo Pack. Try carrying the Thunderbolt Memory Open Mala Dorje ($89.95) while wearing the Thunderbolt Memory Necklace at $139.95, Earrings at $49.95, Bracelet at $89.95 & Power Ring at $139.95, if you can remember where you put them.
THUNDERBOLT TRIGGER DORJE -- $69.95
Waiting for Something to Happen??? Keep the Thunderbolt Trigger in the Cobalt Blue and watch the result! The Thunderbolt Trigger doesn't change the universe. It brings YOU closer to the point where the event occurs, so long as YOU keep the Trigger "in the Blue".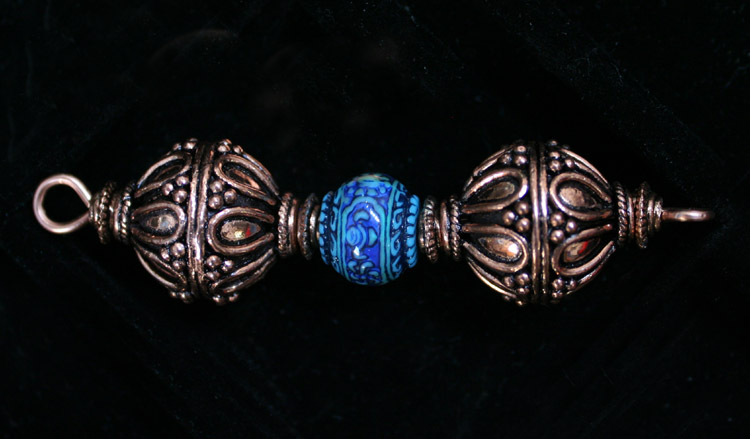 Thunderbolt Armor Dorje gives you double the whammy against Psychic Attack and Low-Life Energy.
THUNDERBOLT ARMOR DORJE -- $69.95
The Ultimate in Psychic Self-Defense. Keep in the Blue for the Best Defense. The Double-Dorje Effect works for you in the Quantum World, working to continuously sample and divert all incoming psychic energy. This is sort of like a SPAM FILTER, so a word of warning -- ALL messages are sent to the dump when you are using this item, good AND bad.
THUNDERBOLT HOPE -- $69.95
When Deep Depression and Despair set in, use this Thunderbolt to bring back the light. Keep in the Blue and everything will be all right.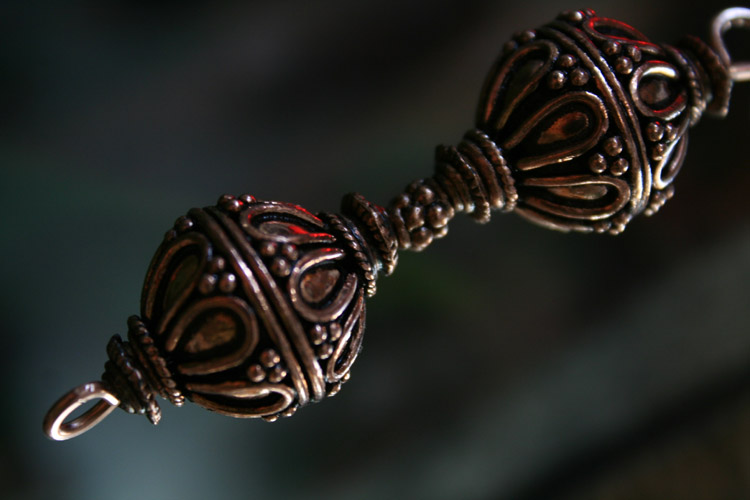 Thunderbolt Master Key is simple but effective.
THUNDERBOLT MASTER KEY -- $69.95
Used by a Thunderbolt Master, this needs no emo-indicator.